Embracing the "New Normal" of Travel and Hospitality at The Alpha Suites
Background Information on COVID-19
COVID-19 is an infectious disease caused by the most recently discovered coronavirus. The coronavirus pandemic has compelled businesses worldwide to adjust their operating practices for the safety of their clients, customers, and staff.


For more information on COVID-19, please visit the official site of the World Health Organization at www.who.int and the Department of Health at www.doh.gov.ph
Our Commitment to Your Health and Safety
As we navigate through the new normal of travel, The Alpha Suites—an accredited Multiple-Use Hotel by the Department of Tourism (DOT) and Bureau of Quarantine (BOQ)—remains committed to maintaining the highest standards of hospitality while reinventing the way we deliver guest experiences for a safe and worry-free stay at your five-star home in the city.
Our Safety Seal certifies that we are compliant with government health and safety standards. Here are the specific steps that we are implementing as part of our commitment to keeping The Alpha Suites 100% free of COVID-19: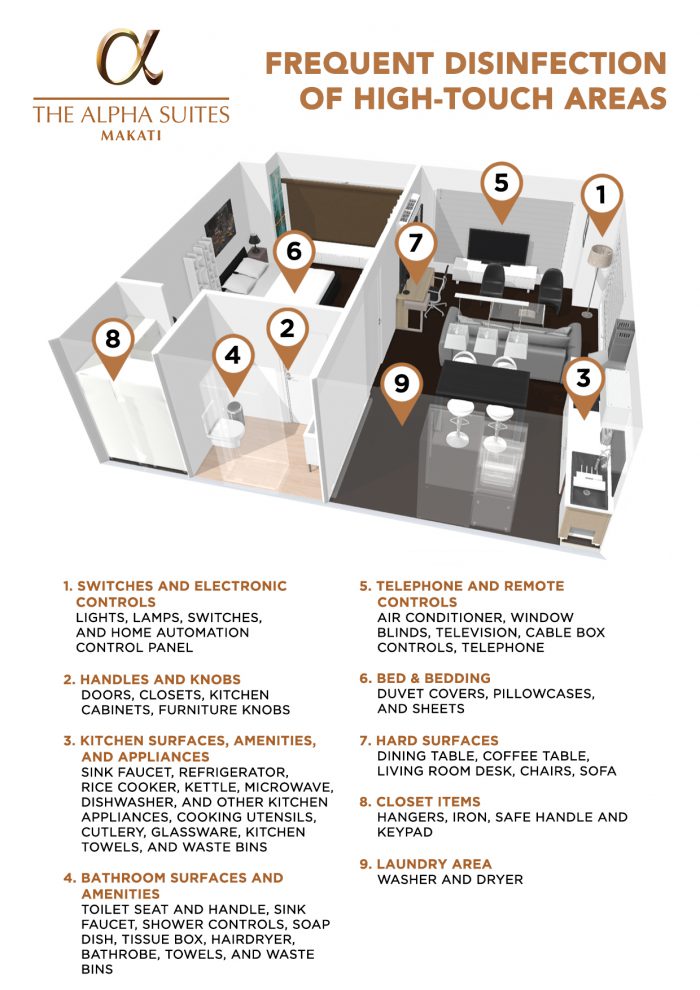 In addition to our heightened cleaning practices, our Housekeeping Team has been implementing frequent disinfection of the high-touch areas in the suites.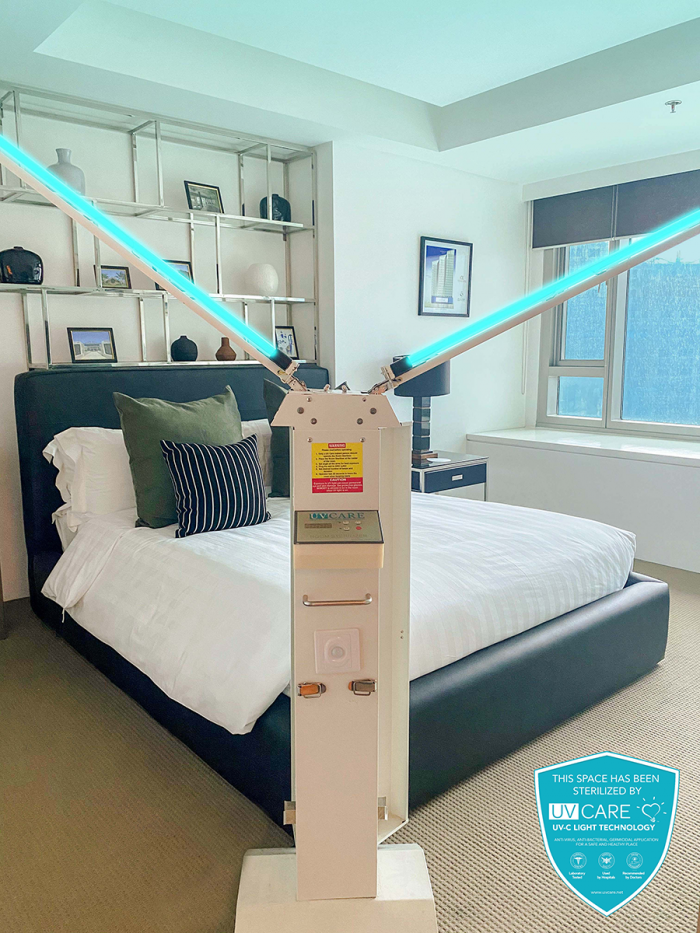 Rest easy knowing that every suite is sanitized with state-of-the-art UV equipment and
cleaned by our meticulous housekeeping team.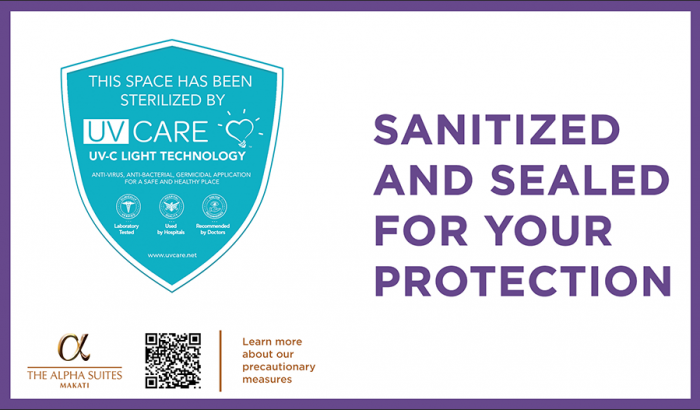 All suites are sealed to ensure that no one enters the room prior to the guest's check-in.
All health protocols of the hotel are being closely monitored and supported by the medical team of Aegle Wellness Center, a state-of-the-art integrative health and wellness center located on-site in the Alphaland Makati Place complex, and which is also a sister company of The Alpha Suites.
Please be advised that in compliance with the government's guidelines on community quarantine and physical distancing, we have adjusted the operating hours of our restaurants and facilities as follows:
11 AM to 3 PM; 5 PM to 10 PM
11 AM to 3 PM; 5 PM to 10 PM
11 AM to 3 PM; 5 PM to 10 PM
11 AM to 3 PM; 5 PM to 10 PM
11 AM to 3 PM; 5 PM to 10 PM
11 AM to 3 PM; 5 PM to 10 PM
11 AM to 3 PM; 5 PM to 10 PM
Closed until further notice
Our specialty restaurants are open for indoor dining at 60% capacity for fully vaccinated* guests, while outdoor dining at the poolside veranda is allowed at 80% capacity in accordance with the latest IATF guidelines. Menus from our different restaurants are available upon request. Guests may also order food for takeout.

*Individuals are considered fully vaccinated two weeks after their second/final dose
Restaurant menus are accessible through smartphones via QR codes. Sanitized physical copies of the menus are also available upon request.
All kitchen staff are required to wear personal protective equipment (PPE) while preparing and serving food.
All tables, chairs, and high-touch surfaces are thoroughly sanitized using a food-grade contact surface disinfectant after every use.
Utensils and plates are sterilized before use to ensure safety.
Basketball Court (for individual training only)
High-definition Virtual Golf Simulator
8 AM to 8 PM


FEBRUARY 1: 9 AM to 6 PM
(Lunar New Year schedule)
We're also implementing the following in compliance with the Philippine government's guidelines for wellness and recreation facilities:
A maximum of 15 guests are allowed in the swimming pool at a time. Reservations are required.
The Hair Salon is operating at 60% capacity to offer hair styling services for fully vaccinated* guests.
Aegle Wellness Center is open every day from 8 AM to 8 PM to provide bespoke programs and medical services, such as RT-PCR tests, Antigen Swab Tests, Rapid Diagnostic Testing, Immune Boost IV Drip Therapy, and Hyperbaric Oxygen Therapy.
As we look forward to better days, take comfort in the fact that The Alpha Suites will continue to maintain the highest standards of cleanliness and sanitation to remain COVID-free.
*Individuals are considered fully vaccinated two weeks after their second/final dose.

Health and Safety Guidelines Under the New Normal
Advisory: All guests 18 years and older who are NOT fully vaccinated (at least two weeks after second/final vaccine dose) are required to undergo a same-day COVID-19 Antigen Swab Test at the on-site Aegle Wellness Center and must present a negative result upon check-in.

Guests of The Alpha Suites are encouraged to observe the following health and safety practices during their stay:
Guidelines for Wearing Masks
Physical Distancing Guidelines
Always maintain a safe distance of at least two meters between yourself and others.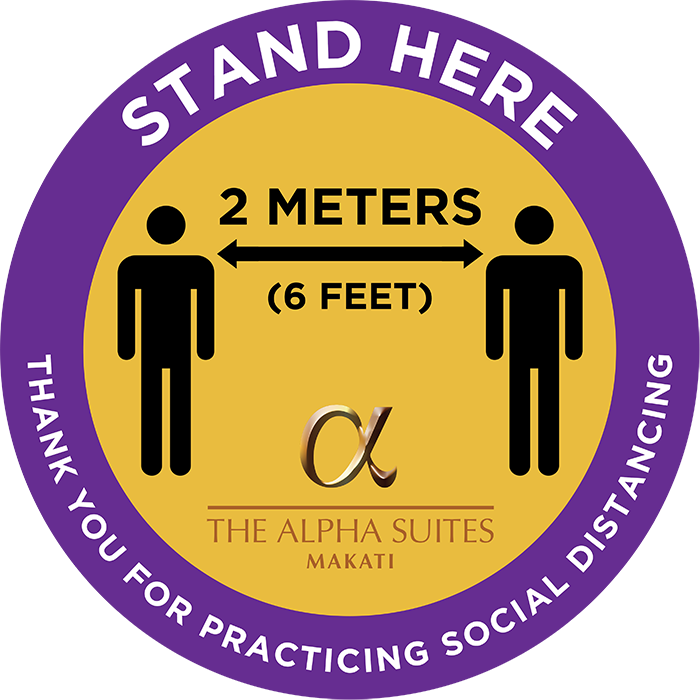 Please visit the World Health Organization for the complete list of countries affected by COVID-19 and the Department of Health for the full list of local communities with high cases of COVID-19.


Travel advisory banners are also posted in the LED monitors in the lobby of the hotel. These banners are being updated daily with the latest travel information for your reference.
HEALTH AND SAFETY AUTHORITIES
HEALTH AND SAFETY AUTHORITIES
Department of Health (Call Center)
(02) 8651 7800 local 5003-5004
Department of Health COVID-19 Hotline
(02) 8870 1601
(02) 8870 1605
(02) 8899 8997
(02) 8899 9037
(02) 8887 6642
(02) 8887 2484
(02) 8843 7168
(02) 8895 8243
(02) 8899 8928
(02) 8896 2828
Ospital ng Makati (Trunkline)